A clever little
music video
has come out that recreates some of the greatest artworks of all time!
In "70 Million" by
Hold Your Horses
...
...the group brings to life 26 different paintings. I thought it might be fun to compare the originals and their homages in the video side-by-side. Enjoy!!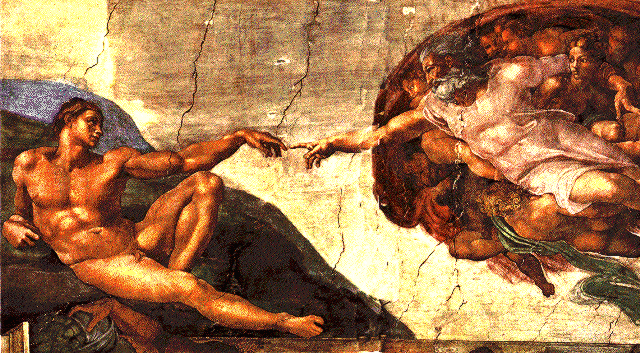 And, for reference sake, the works recreated in the video were...
Leonardo – The Last Supper; Botticelli – The Birth of Venus; Rembrandt – The Anatomy Lesson of Dr. Nicolaes Tulp;

Holbein the Younger - Henry VIII and

Vermeer – Girl With a Pearl Earring ; Géricault – The Raft of the Medusa; David – The Death of Marat; Michelangelo – The Creation of Adam;

Magritte – The Son of Man; Mondrian; Frida Kahlo – Self-Portrait; Munch – The Scream; Picasso – Portrait of Dora Maar; Van Gogh – Self-Portrait with Bandaged Ear; Warhol – Marilyn; Unknown artist (Fontainebleau school) – Gabrielle d'Estrées and One of Her Sisters; Cimabue - Madonna and Child in Majesty with Six Angels; Caravaggio – Salome with the Head of John the Baptist; Manet – Olympia; Delacroix – Liberty Leading the People; Otto Dix – Portrait of Journalist Sylvia von Harden; Klimt – The Kiss; Chagall – La Mariee; Velazquez – Las Meninas; Van Gogh – Sunflowers