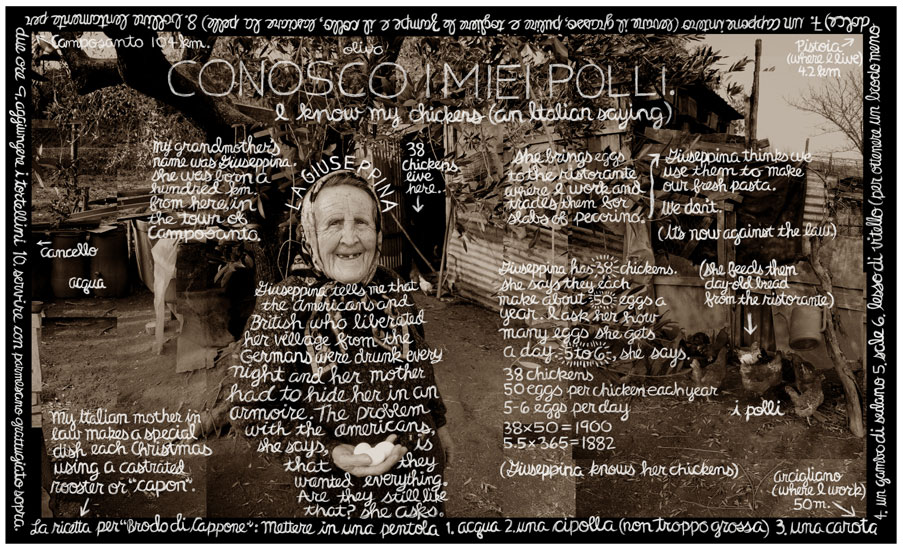 Italian sayings are wonderful! "I know my chickens" - originally a farmer's proverb - would roughly translate now as "I
know
of whom I speak."
The image above is the work of photographer, filmmaker, and multimedia artist
Douglas Gayeton
, who has a show opening this weekend in California. For those who can't make the trip,
here's what Boing Boing has to say about Gayeton's art
:
Douglas Gayeton has explored Tuscany and the heart of Italy's "Slow Living" culture since the early 90's. With a keen eye for stories and an ear for Italian dialect, he he intertwines the literal with the figurative in a photographic approach he calls the flat film. To become immersed in one of these works is to experience a world where time is at once collapsed and expanded. Regarding his work process, Gayeton says, "I've always seen photography as being about a single moment, whereas film is about orchestrating a sequence of moments (scenes) to create a larger narrative.
The mix between the realism of Gayeton's photojournalistic photography and the text reflecting Italian popular culture and the oral history of the subject seems a perfect way to transcend "the single moment" and create that larger narrative! (Reminds me a bit of a kind of refreshingly-grounded, photographic version of this lyrical mix by
Howard Finster
...)
More of Gayeton's work is available on PBS's website in a five-part photo essay called "
My shoes are caked with mud: a Tuscan photo diary
." I look enthusiastically forward to seeing even more from Douglas Gayeton, and hope you do, too! Enjoy!!